Construct Master Collection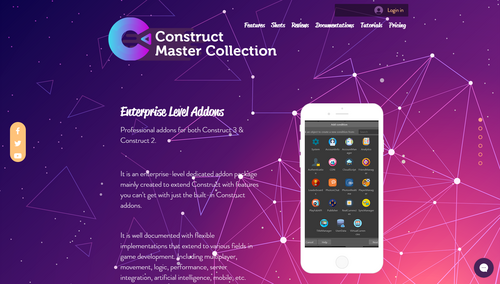 The Construct Master Collection's Patch Release 10.4. This is a continuation update for the Release 10.0, Release 10.1, Release 10.2 and Release 10.3. It includes bug fixes, additional minor features and changes before the next stable release.
New features:
Bug fixes:
Apple SignIn -

Not working properly and added support

for the XCode project export option.
Mobile Network - Fixed startup crashes on some android devices.
Mobile Master IAP

Some expressions aren't returning data.
Trigger doesn't fire during failure due to reference typo.

Title Manager - "Get Catalog Items" is fired instead of "Get Store Items".
Mobile AppsFlyer - App Id is not recognized, which is used on the iOS build.
Mobile Facebook

Undefined login expressions if "Get Login Status" is called without logging in.
Update Is Connected on get login status.

Sync Manager - Parameter issue, from "accessToken" to "serverAuthCode".
Authentication (PlayFab)

Parameter issue, from "accessToken" to "serverAuthCode".
"ServerResponse" only returning [object][Object].
Click here to view the complete release milestone.
Thank you for supporting the Construct Master Collection! Stay tuned for more updates!
Get Construct Master Collection